DAZ STUDIO now has an interesting feature called Face Transfer. (V4.12-)
If you specify a single image, it will make up a Genesis 8 figure for you.

People who enjoy food in solitude and people who are fishing idiots
The face recognition function is quite powerful, and even manga faces can be captured, not to mention live-action ones. (Too deformed, maybe not.)
The free version has the DAZ logo on the frame and is limited to three saves.
To remove the restrictions, you need to buy the paid version and register your serial number.
How to use Face Transfer
Window→Panes(Tabs)→Select Face Transfer.
The Face Transfer window will appear, "Select Image", "Select Male/Female", "Click Start Generating".
All you have to do is wait and the 3D figure generated from the photo will appear.
This is so much fun to play!
Import Famous image to Face Transfer
expressive man
.

An example of incorporating an expressive man. The resentful expression, the fun-loving expression from the bottom of his heart, is well taken in. The characters feel so real that they seem to be alive.
far from the picture
Examples that do not resemble the original image.
He is said to be in trouble with a certain Pinkie. I took it in and it became a completely different person. Do you have a vibe…?
The fact that I couldn't find any hair that looked like that might be the cause of my defeat.
Middle-aged men with lots of wrinkles
Spirited, spirited, spirited! person. Wow, it's so expressive.
The G8 can make a face like this… No, it's the texture shading and wrinkles that make it look more realistic.
The man with the bandana
.

I've never seen anything like it! person. Each headband was taken in as a facial texture. It would be nice to have the momentum match.
Old photos of entertainers
.

From a photo from my younger days, before the gokusen, before the tricks. It's too much like this, isn't it?
Maybe, even if it took 10 years, I don't have the confidence to resemble it to this level on my own.
A beautiful actress and a famous host
.


They are pretty similar. Great.
You can even add a pussy (the word "pussy" in this part is not good) to the mix to create a dreamy co-stage.
Marilyn Monroe
.

It's a good way to take in the depression. Oops, you're getting the moles right too.
Famous actress on NHK
He's the one who's in "Gochisousan" and "Hanasaki Mai".
Take an agonized look at something. This face is amazing.
Heroine in a 3D game
.
I thought the characters from the 3D game would look perfect… but it's not what I expected.
The game characters look more like each other when they match their clothes and hair than when they look alike. It might be easy to feel like.
Realistic Japanese-cartoon character
.

↑This is where the manga was imported. He's got good eye, mouth, and nose identification.
</a
I couldn't read the manga, except for the ones with a dramatic style.
Favre and JoJo and stuff like that, they recognized me pretty well.
Sheldon of The Big Bang Theory
Even with the low resolution images, a mysterious realism is exuded.
However, if you don't know the original story, you may not know who he is. As evidence of this, when I did a Google image search for the finished image, the face of the original story did not come up.
Sakamoto Ryoma (Japanese Historical Person)
.

Ah, maybe it's a bit like that.
It was a horizontal black and white image, but it's unexpectedly beautiful.
Painting Beauty
.

It's good, it's good, it's good.
The first time I took in this beauty, it looked like this. There's a sense that it's capturing the atmosphere, but it's red. Why is it red? I was quite troubled.
I've written down below what to do when it turns reddish, so keep an eye out for that.
Portrait of Oda Nobunaga
.

It was in the style of a ukiyoe, but I was able to get it in. I feel like I've got a taste for it.
Villains in Japanese dramas
.

The super individuality enemy role of the drama Hanzawa Naoki. It was played by Teruyuki Kagawa. Very similar!
Jack Sparrow
.

Pirates of the Caribbean. It's done pretty faithfully.
Joker
.

From the movie that is coming out soon. It's so-so, but the makeup at the borderline of the intake is blurry.
Case of faces I couldn't capture
Animal (dog) faces, deformed cartoon characters, Van Gogh's self-portraits, JoJo's stone masks, etc.
Images that are hard to recognize as human faces seem to be bad.
Use only shapes or textures
.
With Face Transfer, you can sometimes get some great textures.
Oh! As for the face shape, I'd like to use a commercially available character, just a texture!
If you want to do this, set the morph's "Face Transfer" to 0% and then set your favorite face shape to 100%.
Yes, the shape captured by Face Transfer is stored internally as a Face Transfer morph.
If it is troublesome to follow the hierarchy, input "face" in the magnifying glass (search window) at the top right of Parameters and press the Enter key, it comes out.
After that, choose your favorite head from Actor→Head and make it 100%.
Incidentally, this is a combination of a texture from a suitable face image and a shape from Pei.
Yeah! That's good.
It's not inferior to DAZ's Japanese characters at all.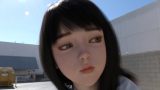 DAZ Studioで日本人キャラのおすすめ 顔の調整方法は?
DAZで入手できる、日本人ふう美女キャラクターの紹介と、自分でオリジナル美女を作る方法を覚え書きしてみたい。日本の制服を着せたり、日本の風景にあうキャラクターを集めてみようという試み。DAZ Studioの日本人キャラの作り方オリジナル美女
Morphs imported with Face Transfer will be overwritten when another image is imported, but the previous morphs can be saved if the name is changed.
I guess that means you can take multiple characters and blend the morphs together!
(I'm not sure how effective it is.)
Notes on Face Transfer
Face Transfer failed to generate.
It's supposed to be "click, click, do it quickly…" but I get an error and I can't do it at all! Idiot!
I was indignant, but it was my fault.
The cause of this error was "Because the file path had Japanese in it.
The error message is "Face Transfer has failed to generate. Try a different image.
I get this error no matter what image I choose. What the hell?
Also, the error content is too fluffy. If you don't show me the cause of your failure, there's no way to deal with it.
Murmur.
After searching around the DAZ forum, I came across the information that "filename may be invalid".
The reason for the error was that the file path had Japanese characters in it (I had specified an image in a folder with a Japanese name).
What the hell is this?
I created a folder called c:\frz}wk and put the images in it. It worked easily.
Another cause, maybe because Genesis 8 Starter Essentials hasn't been updated
.
I was digging around in the forums and found another piece of information that might be the cause of the error, so I'll save it.
Genesis 8 Starter Essentials (figure data for Genesis 8) must be updated to bring it up to date, or you may get an error.
On the installation manager (DAZ Install Manager), make sure that the following is the latest version
Genesis 8 Female Starter Essentials
Genesis 8 Male Starter Essentials
.

If the above two items are not displayed in the "Product Updates" column of the "Ready to Download" tab, it can be considered to be the latest.
Why red after being captured
There have been cases of reddening, as shown below.
The countermeasure for the reddish preview is to change the draw mode
.
There have been cases of reddening, as shown below.
↑It's too red!
For the same reason as blue skin problem, if the draw mode in Draw Settings is set to "Interactive", it seems that the color is not correct.
To solve this problem, go to Draw Settings and change the Draw mode to Photoreal.
If you change the Draw Mode, the appearance will change like this. Not knowing how to do it the right way is a really scary thing.
Until I figured out how to deal with this, I forced myself to change the Trancelucency Color on the Surface tab as follows.
Let's just leave it at that.
Change the Trancelucency Color to black red on the Surfaces tab.
In the meantime, I changed the following so that it becomes blackish.
It should be adjusted by the image. Simply being black every time can make you look like a corpse.
Oh, the Jack Sparrow look is up!
In addition, when you press Alt+Shift+M, the Surface of the clicked point will open automatically. (Surface Selection tool)
The effect is the same as when you click on the indescribable icon at the top of DAZ STUDIO.
The countermeasure to become heavy is to use Decimator
.
It's not Face Transfer's fault, but it slows down when you put out a bunch of G8 figures in DAZ Studio.
Using Decimator, a polygon reduction tool, the operation became much lighter.
It seems to be a good idea to remove all the underwear from the figure made with Face Transfer and reduce the polygon to about 50% in Decimator.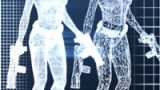 Decimator for DAZ Studio ポリゴン削減ツール
重いフィギュアのポリゴンを減らすツール。UnityやUnreal Engineなどゲームエンジンにデータを持ち込む際に使われるツールだが、DAZ STUDIOでのレンダリング速度や配置時の操作レスポンスが向上するため単にデータを軽くする目的でも重宝されている。早い段階で入手しておくと、何かと役立つツールだ。
Add-on software to make your face look more 3D
.

>Face Transfer Shapes for Genesis 8
A collection of face shapes to cover the weakness of Face Transfer, which is that it tends to have a flat face.
However, if you apply it to a Japanese face, the flat face, which is a disadvantage, is worked in a very good way to create a realistic Japanese face.
Also, when viewed from the front, it doesn't change much, with or without the undulations of the face.
I want to create a nasal profile! It's a good idea to check it out.
The paid version of Face Transfer can erase watermarks
The watermark on the forehead is a proof of the trial version. If you buy the paid version, it will be hidden.
Purchased.
To sign up, go to My Page on the DAZ official website and select "Serial Numbers" and you will see your Face Transfer Unlimited serial number…
Register your serial number in Help→About Installed Plugins of DAZ Studio.
After registering, restart DAZ Studio to activate Face Transfer Unlimited.
Summary
Enable to take photos, realistic illustrations, and paintings as figures
In some cases, the default color is reddish, so you may need to adjust the material after importing it
Much like.
Error occurs if image file path contains Japanese characters
I don't have to look for Japanese style figures in DAZ anymore, I can just make them from images.