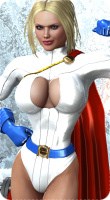 Notes:
Another request.



This costume has 5 confirming figures:

Cape, Belt, Left Boot, Right Boot, Gloves and Suit.

Plus a dynamic cape figure (cape is dynamic the rope is confirming).

The suit loads without textures. Suit material is in materials:cosplay:etc… folder.

Remember to always select V4 before loading the next clothing item.



OBS! This was not tested in Daz Studio. I make these clothing items only poser in mind.

This may change in the future as I will become more familiar with DazStudio. But for now, I can't guarantee

that these items will work in Daz Studio.



-Terrymcg



P.S. I am having lot's of problems with my computer. I have to re-install my OS and all my poser related programs, so it might take a while before I am able to correct any possible problems in the costume.
Includes: