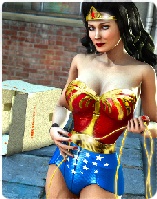 Notes:
This Costume is for Victoria 4 and Poser. I have no clue how this costume works in other applications and can offer very little help

if it doesn't work adequately.



This costume has confirming figures, poseable figure and smart props.

The poseable figure does not confirm to V4. You can parent it and pose it.

The boots are modeled to be in a highheel position, so you need to hide Vicky's feet with "Hide feet" pose, that is located in /poses/cosplay folder.

I haven't done enough testing, so I expect there to be few bugs. There allways seems to be.